Biscotti
June 4, 2021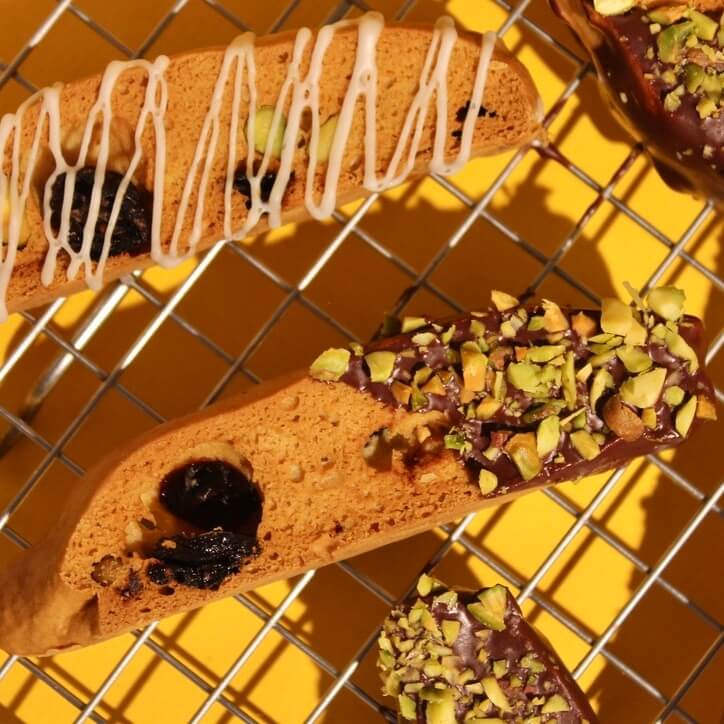 What's better than a cookie you bake once?
A cookie you bake twice!
Usually, Biscotti can be a little rough around the edges and requires a big soak in strong coffee before you can take a bite. But when we added mountains of creamy dreamy cocojune yogurt to this recipe, we just couldn't manage to make a tough cookie. 
So if you like a slightly softer, kinder biscotti, this is your girl.
WHAT YOU'LL NEED
1 cup pure coconut cocojune
¼ cup aquafaba 
1 tsp vanilla extract 
⅔  cups organic unrefined sugar 
2 cups all-purpose flour
1 tsp baking soda
1/2 tsp baking powder
¼ tsp kosher salt 
⅓ cup of roughly chopped pistachio nuts
⅓ cup dried cranberries 
For decorating
Melted chocolate or prepared cocojune holiday glaze for dipping
Extra pistachios, chopped fineeee
HOW TO MAKE
Preheat your oven to 350F and line a baking sheet with parchment paper
In the work bowl of a mixer, combine cocojune, aquafaba, sugar, and vanilla. Mix until the sugar crystals have dissolved. 
Turn the mixture off and measure the remaining ingredients out in the work bowl. Mix until combined.
Scoop the biscotti batter down onto the center of a baking sheet and use a butter knife or spoon to shape the biscotti batter into a loaf that is about 3 inches wide and ½ inch tall, the length of the pan. 
Bake the biscotti at 350 for about 25 minutes or until the bottom is brown and the cake is firm. 
Remove it from the oven and let it cool. Lower the oven to 300F 
Slice your cooled biscotti loaf on the bias into individual cookies and return them to the oven. Toast them at 300 degrees for 10 minutes on each side. 
When your biscotti is finished, you can dip it in chocolate or glaze and decorate it with finely chopped pistachios.