Banana Bread
May 7, 2021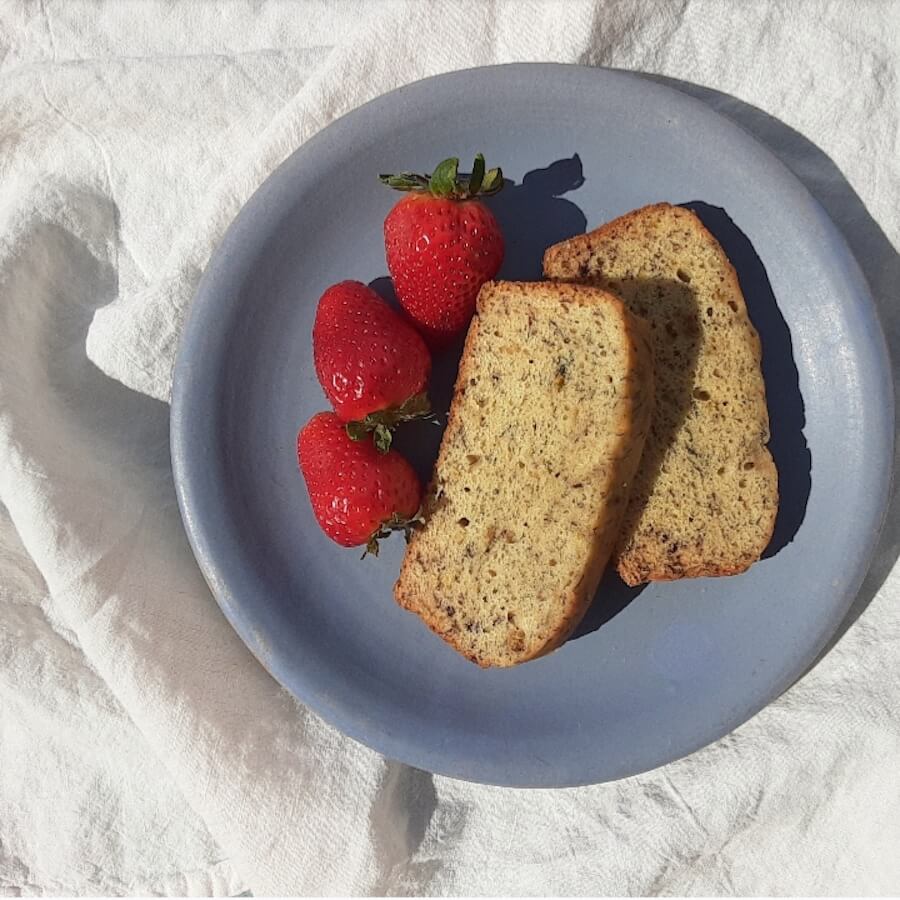 This is it everyone. This is what we have all been waiting for. Finally. The internet is complete.
Content creators the world over can rest.
Ground has truly been broken today, and we at cocojune are thrilled to bring you a recipe for something truly amazing and special; Banana Bread.
Now, if you aren't familiar with Banana Bread, it's actually a really fun concept. Fruity, cakey bread that you can slice and eat or toast and butter. You'll be able to add fun mix-ins like chocolate chips or dried blueberries too if that's what you like.
We think that in a few years, everyone will be eating it.
And! The best part! This Banana Bread recipe has been adapted to feature our own branded product as an ingredient. A pretty novel concept, we know.
Even though most of our brain power right now is dedicated to hoping that our little joke has landed, we do have a bit left over dedicated to hoping that you give this – possibly the 50th or 60th banana bread recipe you've seen today – a try. Because while it does not reinvent the wheel, it is so good.
What makes this recipe special of course, is that it uses cocojune vanilla chamomile yogurt to create an extra moist texture and an exciting flavor. We also think that this recipe is a fun introduction to the CJ lifestyle. Not only is it completely plant-based, but it also uses a larger grain, unrefined sugar just like our sweetened yogurts.
Baking with unrefined sugar is a great choice for anyone who can tolerate cane sugar but wants to start taking small steps away from overly processed and mass-produced foods.
If you haven't baked with it before, unrefined sugar usually has a coarser texture than white table sugar and a higher moisture content. It's an easy substitution to make but it may require a little bit of extra mixing time so read the instructions carefully for best results.
If you haven't baked anything before, ever, then keep reading. Because this recipe is about as easy as it is delicious.
WHAT YOU'LL NEED
1 ¼ cup mashed overripe bananas (the average yield of 2 large bananas)
1 4 oz container of vanilla chamomile cocojune yogurt
⅔ cup organic unrefined sugar
1 tsp vanilla extract
2 cups all-purpose flour
1 tsp baking soda
½ tsp baking powder
¼ tsp kosher salt
1 tsp organic unrefined sugar – reserved for sprinkling on top
HOW TO MAKE
Preheat your oven to 350F and line a loaf pan with a sheet of parchment paper. This is so important because once your batter is finished, you're going to want to get it in the oven right away.
In a large bowl that either fits into a stand mixer or is usable with a handheld electric mixer, combine your mashed bananas, yogurt, sugar, and vanilla.
Mix thoroughly, for at least 3 or 4 minutes on a low speed. It's important to let these ingredients take their time mixing because the coarse texture of the unrefined sugar means it will take longer to dissolve into or bond with the other ingredients.
In a separate bowl, combine your dry ingredients – flour, baking powder, baking soda, and salt. Mix them gently with a fork a few times so that the leaveners are well dispersed, but no need to go crazy. 
Once the wet ingredients have been thoroughly combined, add your dry mixture and let the electric mixer run on the lowest speed until the only visible flour is just a ring around the edges.
Turn your mixer off and use a spatula to finish folding in the ingredients that were missed around the edges and at the very bottom of the bowl.
When completed your batter will look sticky and very bubbly. The bubbles are a result of the baking soda and the acidity of the yogurt coming together to create a ton of air. This air is going to make your banana bread so springy and light when it bakes.
Dump your batter into your lined loaf pan. We know that if we said 'Pour your batter' it would sound a lot more appealing, but it would also be a lie. She Thicc.
So just do your best. Use the back of a spoon to spread and smooth the batter around once it's all down.
Finally, sprinkle the very top of the banana bread with about a teaspoon of unrefined sugar. Because this recipe is so unbelievably low in fat (just an assessment of the ingredient types, not an endorsement of nutritional value) it's going to need some help developing a nice crispy brown crust, and a little sugar will do just that.
Bake your banana bread for 50 minutes or until a sharp knife inserted into the center of the bread comes out dry.