Sunset Smoothie
July 27, 2021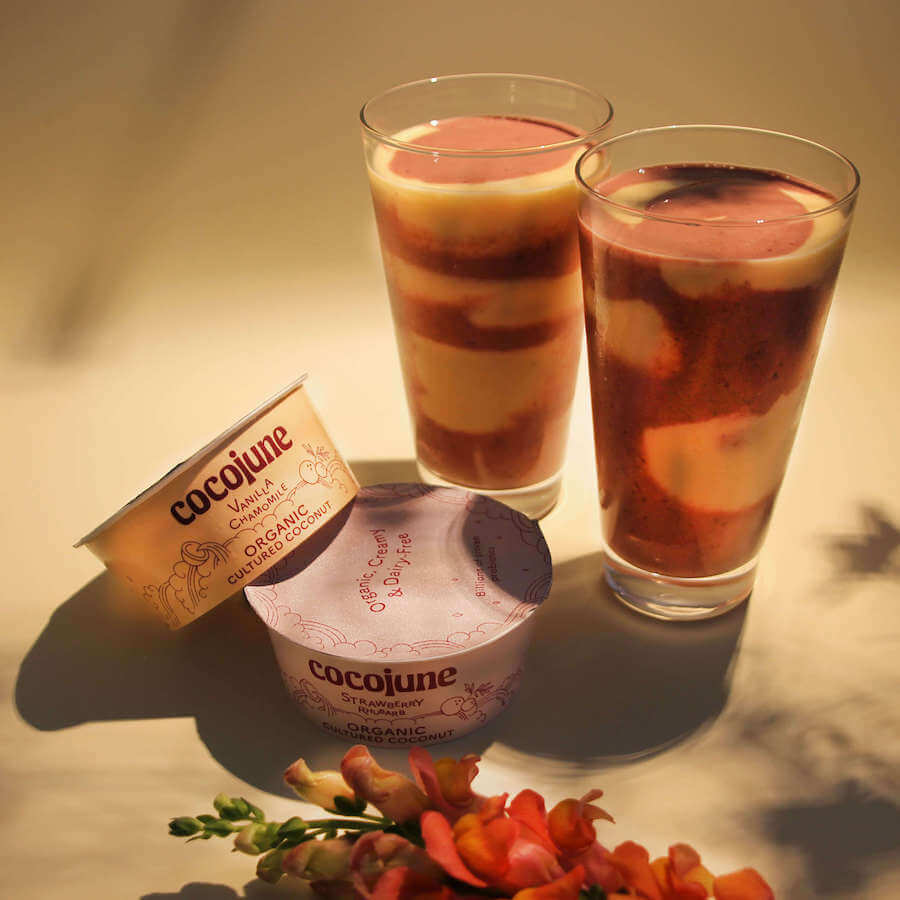 Whenever we dig into a bowl of cocojune yogurt, we're always reminded of creamy, dreamy cloud cover, floating by on a big spoon.
In this smoothie, june gets the golden hour treatment, blended up with seasonal stone fruits and sculpted into layers so gorgeous they'd give any sunset a run for its money.
Yield – two smoothies for two best friends
WHAT YOU'LL NEED
Vanilla Peach Smoothie
1 4 oz container vanilla chamomile cocojune
1 cup frozen peach slices 
1 ripe banana
¼ cup plant milk of your preference
Pink Fruits Smoothie
1 4oz container strawberry rhubarb cocojune
1 cup frozen cherries
1 ripe banana
¼ cup plant milk of your preference
HOW TO MAKE
In the work bowl of your blender, combine the ingredients for the smoothie, altering the amount of plant milk as needed to ensure a smooth and consistent texture. 
Once it has been blended up, transfer it to a vessel, preferably with a spout like a large measuring cup, and set it in the freezer to stay cold for a few minutes.
Next, add the ingredients for your Pink Fruits Smoothie to the work bowl of the blender and repeat the process.
Once both smoothies are complete, pour them out in alternating layers to create the dreamiest skyspace right in your glass.