Cinnamon Bun Muffins
June 4, 2021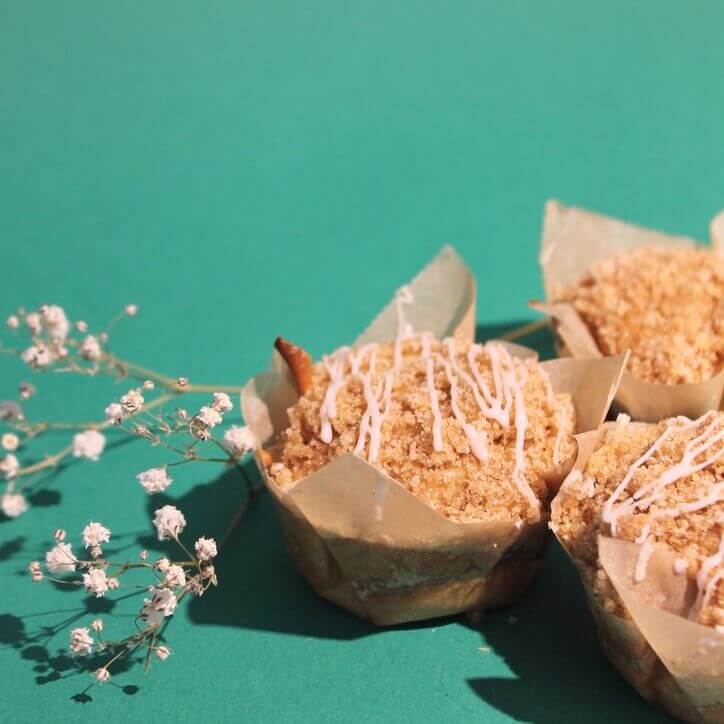 The most important part of the holiday season for so many people is being able to depend on traditions. Some of those traditions might be harder to keep than usual this year, but with these super easy and cocojune-filled cinnamon bun muffins, you can spend this year creating a new tradition with the ones closest to you. 
These muffins are great baked the night before and even though they are technically a little sweet, they make a great holiday breakfast paired with a big cup of coffee and some fuzzy slippers.
WHAT YOU'LL NEED
1 cup pure coconut cocojune
¼ cup aquafaba 
1 tsp vanilla extract 
⅔ cup organic unrefined sugar 
1 cup + 2 tbsp all-purpose flour
1 tsp baking soda
1/2 tsp baking powder
¼ tsp kosher salt 
For the filling and topping
2 tsp cinnamon
½ cup all-purpose flour
⅓ cup light brown sugar
¼ tsp salt
3 tbs vegan butter(we used Earth Balance)
HOW TO MAKE
Preheat your oven to 350F and prepare your muffin tin with liners.
In the work, bowl combine your yogurt, sugar, and aquafaba and mix until the sugar crystals have dissolved. 
Stop the mixer, measure your dry ingredients out into the work bowl and then resume mixing until combined and smooth. Use a spatula to finish up around the edges.
In a separate, smaller bowl, combine the ingredients for the crumble and bring them together with a fork until they are the consistency of big moist crumbs. 
Fill each of the muffin molds ⅓ of the way full. Add a generous layer of the cinnamon crumble and then fill the muffin mold to ⅔ full. Top with another layer of cinnamon crumble. 
Bake for between 25 and 30 minutes or until a toothpick inserted into the center of a muffin comes out dry. 
You can choose to eat your muffins just like this, or you can add a drizzle of our cocojune holiday glaze which we posted previously.