Cocojune x Daring Nuggets
August 6, 2021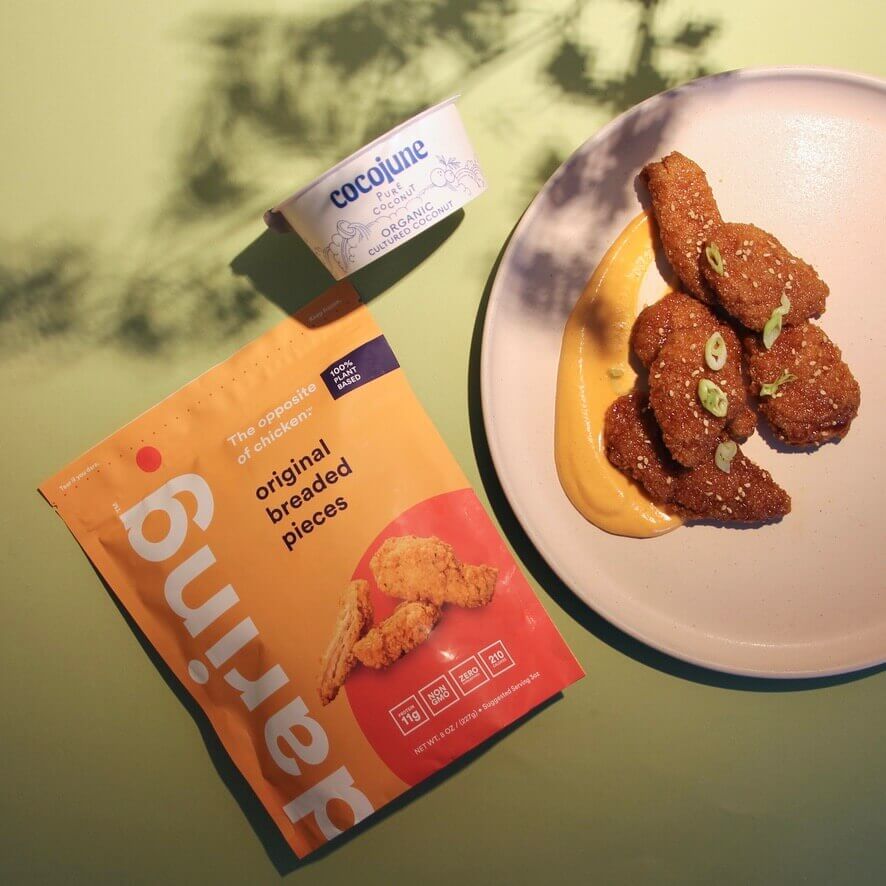 When was the last time you cooked up something that was truly 'daring'?
These Not Chicken Nuggets from Daring certainly inspired us.
For this fun glaze and dip combo we played around with a Korean Fermented Chili Sauce called Gochujang and left the heat level up to you.
So how Daring will you choose to be?
Yield – Single dinner serving or sharing appetizer for 2
WHAT YOU'LL NEED
For the glaze
2 tbsp of Maple Syrup
1 tsp Gochujang + more if you dare 
For the june dipping sauce
¼ cup pure coconut cocojune yogurt
½ tsp Gochujang + more if you dare
½ tsp maple syrup
½ tsp salt
½ tsp of sesame oil
Garnish with sesame seeds and sliced green onions
HOW TO MAKE
Prepare the Daring Nuggets according to the back of the bag – we preferred the oven compatible instructions.
In the bottom of an oversized bowl, mix together the two ingredients for the glaze and set aside.
In a separate bowl, mix together the ingredients for the dipping sauce. If you don't have sesame oil, you can substitute it with another neutral liquid oil (like coconut or avocado) but don't skip the fat all together.
Taste both your glaze and dipping sauce and adjust the salt and heat level to your liking.
Once the Daring Nuggets are finished cooking, transfer them to the oversized bowl of glaze and toss them until they are coated.
Serve these nuggets up within dipping distance of your sauce and a sprinkle of sesame seeds and green onions so people think you're extra fancy.
Notes on Recipe
The oven preparation of these nuggets is truly superior.
Having the extra fat added to the dipping sauce helps the complex heat of the gochujang stay on your tongue longer so you can appreciate how interesting it is.