cocojune x Kosterina olive oil & crushed strawberry vinegar cake
September 30, 2022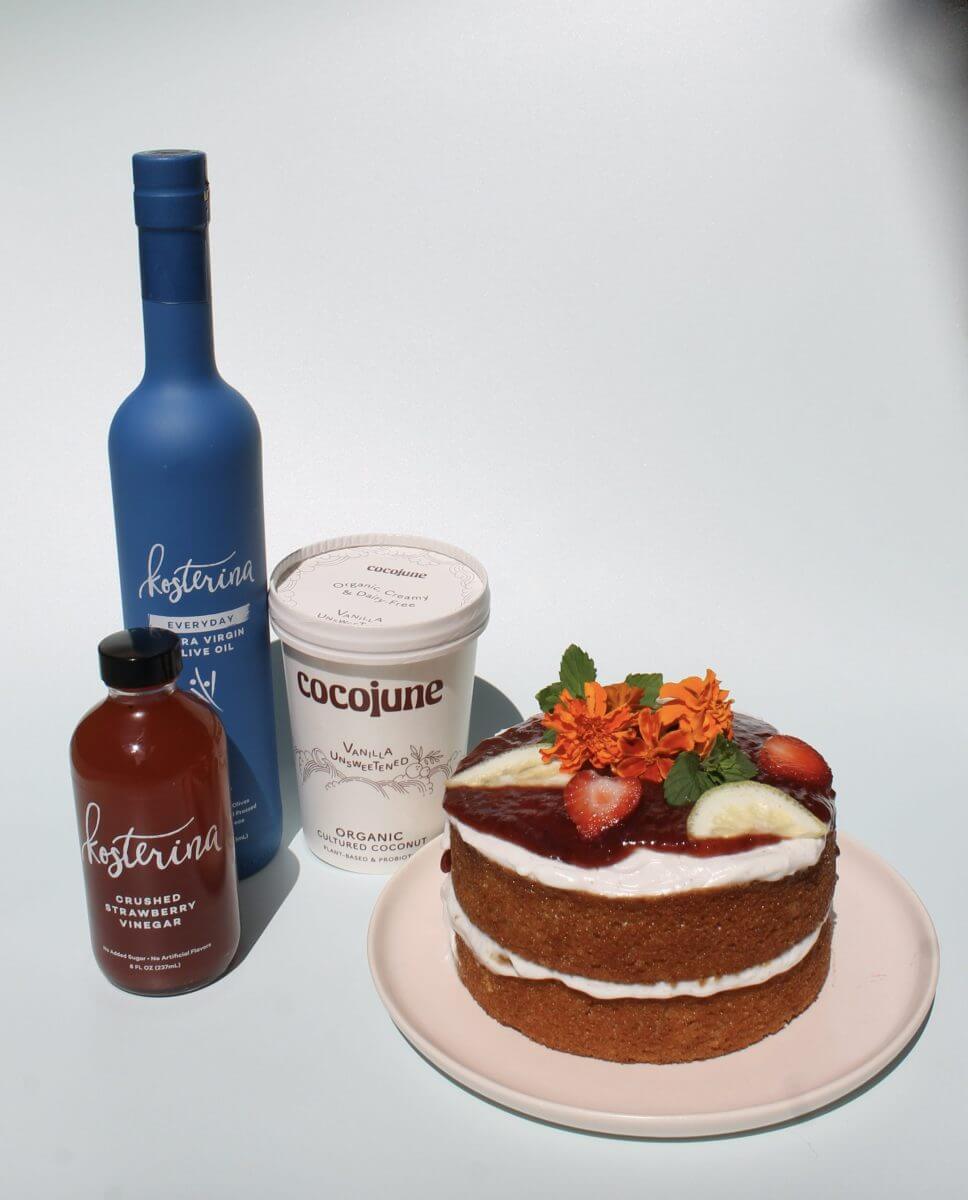 June's just the icing on top of the cake ✨ She's dressed to impress with this fruity & moist olive oil cake and we're positive she'll be a crowd pleaser for any occasion!
WHAT YOU'LL NEED
For the cake
¾ cup Kosterina organic olive oil
½ cup unsweetened apple sauce
1 cup non-dairy milk
2 tbsp fresh lemon juice
2 tbsp fresh lemon zest
1 ½ cup granulated sugar
2 cups all purpose flour
1 ½ tsp. baking powder
½ tsp baking soda
1 tsp salt
Crushed strawberry vinegar jam
1 ½ cups fresh or frozen strawberries
1 cup water
½ cup Kosterina crushed strawberry vinegar
1 tbsp turbinado sugar
3 tbsp maple syrup
pinch of salt
Toppings
cocojune vanilla unsweetened
lemon slices
strawberries
mint leaves
edible flowers
HOW TO MAKE
Preheat your oven to 350 F.
Grab two mixing bowls, combine the wet ingredients in one and the dry ingredients in the other.
Combine the dry ingredients into the wet and stir until everything is smoooooth.
Pour the batter into your prepared pans and bake for 45-60 minutes, or until a toothpick comes out clean 🙂
While the cakes cool, it's time for the crushed strawberry vinegar jam!
Over high heat, combine your strawberries and water. Smash the berries with a fork and bring it all to a boil.
Remove the berry solids, add your Kosterina vinegar and a pinch of salt.
Let this boil for 5 minutes, reduce the heat and add the maple. Stir this mixture continuously until it coats the back of a spoon. Let it cool before adding it to your cake.
Once everything has cooled you can ice your cakes with vanilla unsweetened cocojune and top with the crushed strawberry vinegar jam, fresh fruit, flowers, and mint.