cocojune x Tony's chocolate pecan pie
November 16, 2022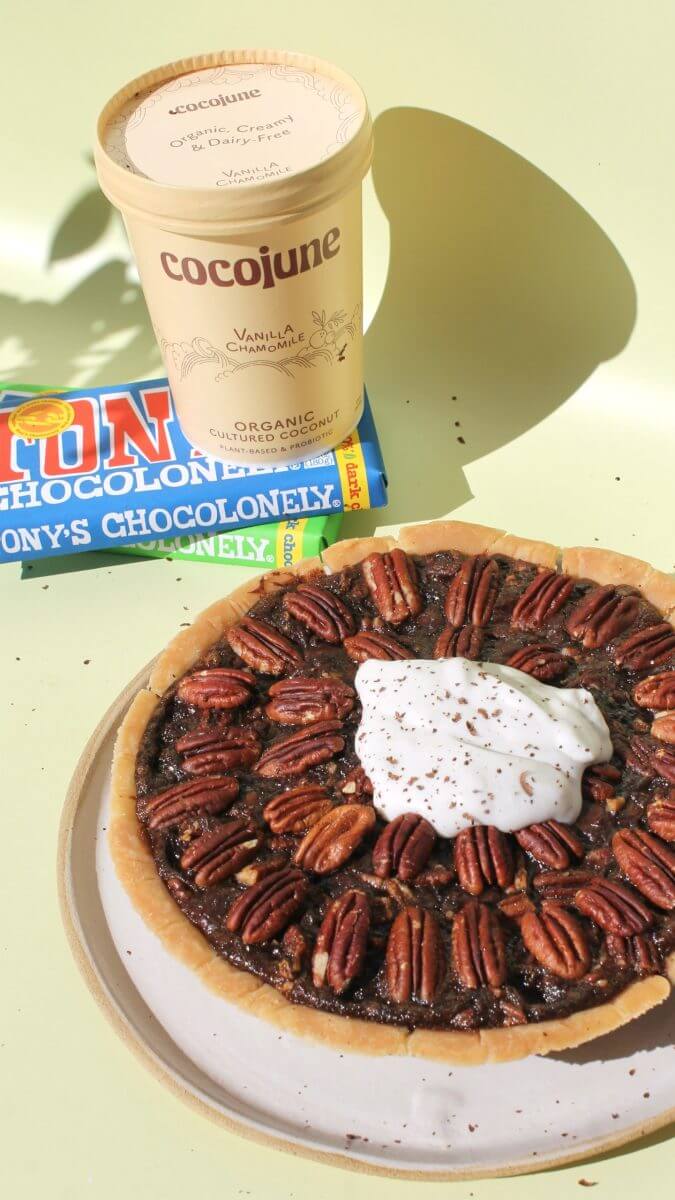 We always save the best for last 😉 this ooey gooey plant-based chocolate pecan pie will satisfy allll those sweet cravings after your Thanksgiving feast! Or anytime you're in the mood for a decadent dessert ✨
WHAT YOU'LL NEED
1 pie crust of your choosing
2 cups of pecans
1 cup of Tony's Chocolonely Dark Chocolate
⅓ cup coconut sugar
¾ cup coconut milk
3 flax eggs
2 tbsp cornstarch
1 tsp vanilla
sprinkle of salt
vanilla chamomile cocojune for topping

HOW TO MAKE
Bake your crust according to your recipe of choice.
Preheat your oven to 350F and give your pecans a little toast for 5-7 minutes (until fragrant).
Combine your coconut sugar, coconut milk, flax eggs, cornstarch, vanilla and salt.
Add in your toasted pecans and chopped Tony's Chocolonely Dark Chocolate and stir until everything is combined.
Spoon your mixture into your pie crust and bake for 30 minutes with a pie shield covering the crust.
Finish this cutie without a pie shield for 20-25 minutes.
Wait until your pie is fully cooled and then top with vanilla chamomile cocojune.