Key Lime Tarts
August 3, 2021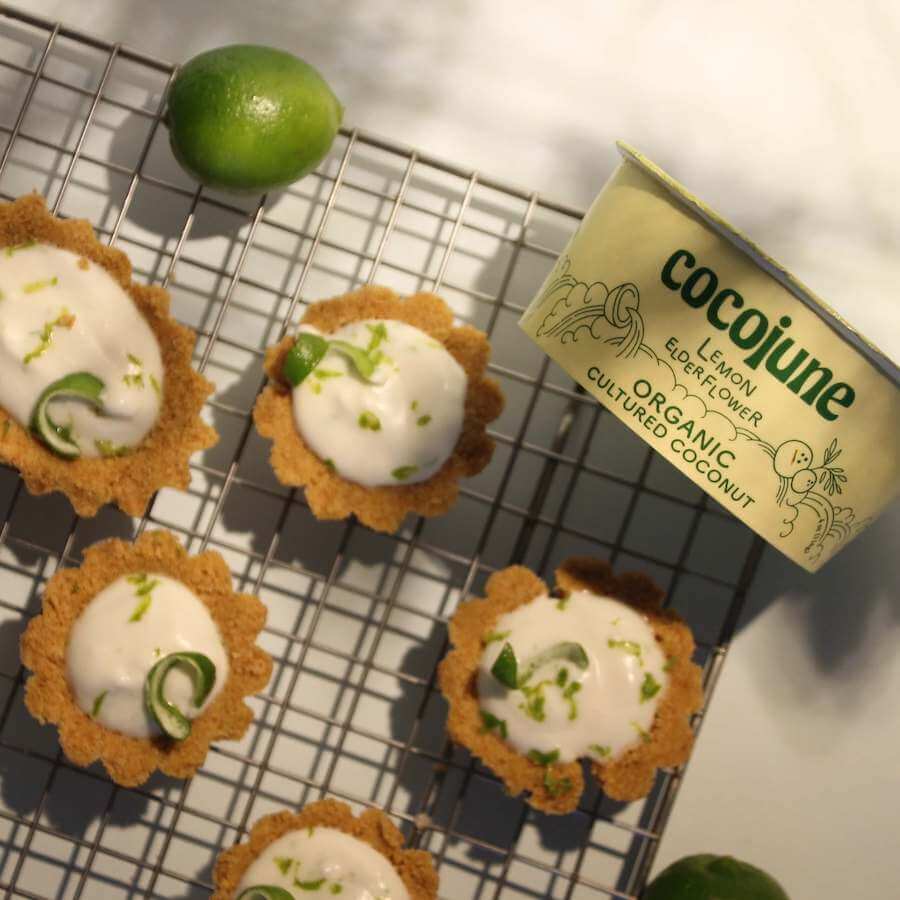 The key to these key lime cutie pies is the tart and tangy lemon elderflower cocojune we've used as our base. The key is most definitely not to use real Key Limes. Those little buggers can be hard to find and for this recipe, regular lime juice will work just fine.
Yield – 6 mini key lime tarts
WHAT YOU'LL NEED
For the crust
1 cup of freshly crushed graham cracker crumbs
5 tbsp coconut oil
For the filling
1 4 oz container of lemon elderflower cocojune
2 tbsp Key Lime Juice
1 tbsp Key Lime Zest
2 tbsp coconut cream 
¼ tsp vanilla extract
HOW TO MAKE
In one bowl, combine graham cracker crumbs with liquid coconut oil and stir until they are clumpy. Then transfer them to the bottoms of your small molds. 
For best results, choose molds that are small and will let you create an edge. A crust with a rim will keep the soft filling where you want it. (Mini muffin pans actually work great.)
Press the crumbs down to form a crust and transfer your tart shells into the freezer so they set up fast. 
In a larger bowl, combine lemon elderflower cocojune, coconut cream with key lime juice, and zest; stir until combined.
Unmold the tart shells from their pans and pour the filling in.
Keep your finished tarts in the fridge until you are ready to eat them. The filling will not be set up but the small shells will stay firm as long as they are kept cold.
Garnish with a little extra lime zest.