Mint Matcha cocojune x Foodstirs Ice Cream Sandwiches
August 2, 2021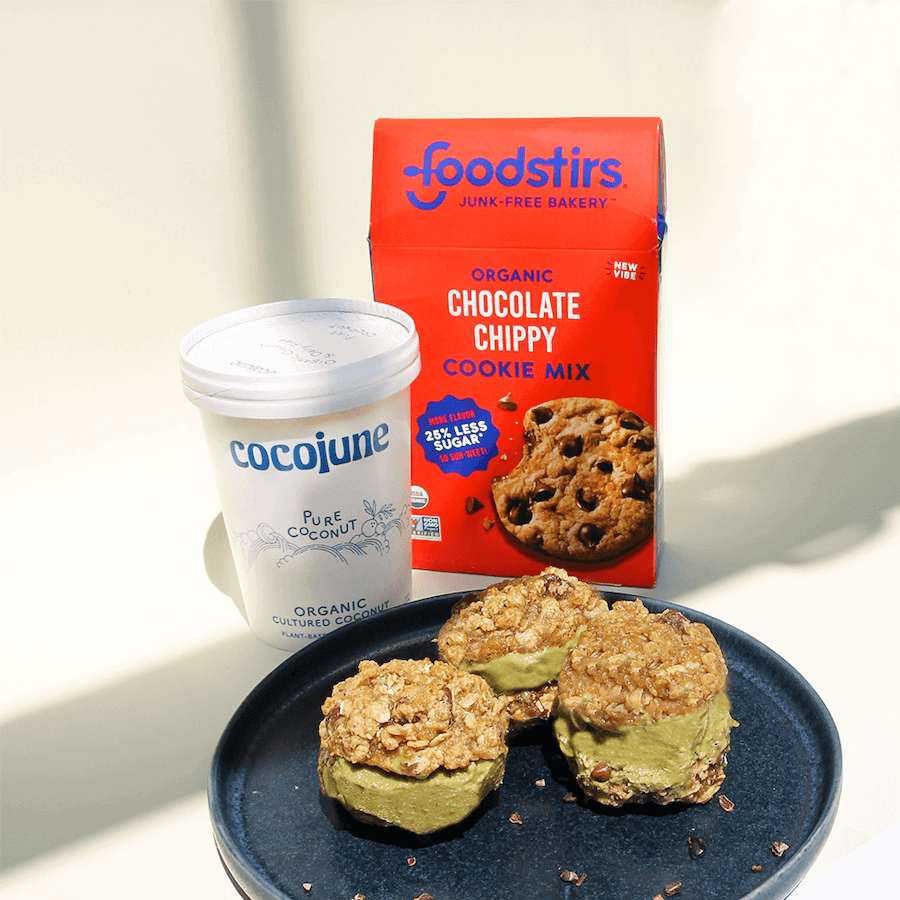 You can't let the summer pass you by without an ice cream sammy moment… Look no further than this dreamy collab with the delish Foodstirs vegan chocolate chip cookies! A true matcha made in dessert heaven, these cuties are full of our mint matcha cocojune ice cream. Enjoy!
WHAT YOU'LL NEED
Matcha Ice Cream:
8 oz of pure coconut cocojune
2 large frozen bananas, cut into chunks
Up to 2 tsp of matcha powder
A few drops of mint extract (seriously be sparing. This stuff is stronnnnng.)
2 tbsp of a syrup sweetener (coconut nectar, maple syrup, honey or agave)
1 chocolate bar (your fave vegan one, we love Fine&Raw) cut into small shards
Vegan Chocolate Chippy Oatmeal Cookies:
HOW TO MAKE
Matcha Ice Cream:
In a food processor or blender, combine your cocojune, frozen banana chunks, matcha powder, mint extract, and syrup sweetener and blend until smooth. Give it a taste too, check your mintiness levels and adjust them if necessary. 
Once your coco froyo is smooth and creamy, transfer it to a tupperware container, stopping frequently to sprinkle some chocolate chunks in.
Top the container off with a final layer of chocolate and drag a spoon or spatula through the froyo to make sure the chocolate is evenly distributed throughout.
Grab a spoon and start scooping or let this chill in the freezer for a half-hour to set up.
Vegan Chocolate Chippy Oatmeal Cookies:
Combine the flax meal and water in a small bowl. Whisk together, then set aside to thicken, about three minutes.
Preheat the oven to 350° F; line a baking sheet with parchment paper.
In a large bowl, combine the flax mixture and the olive oil.
Add the oats and one Foodstirs Organic Chocolate Chippy Mix; blend until a dough forms
Form dough into tablespoon-sized balls; place on the parchment-lined baking sheet at least one inch apart.
Bake 8 to 10 minutes, until the edges, begin to brown.
Cool completely on a wire rack.
Ice Cream Sandwich:
When cooled off take two cookies and spread a layer of ice cream.
Set these cuties in the freezer to harden and then enjoy 🙂