Strawberry Rhubarb Ice Cream Sandwiches
June 18, 2021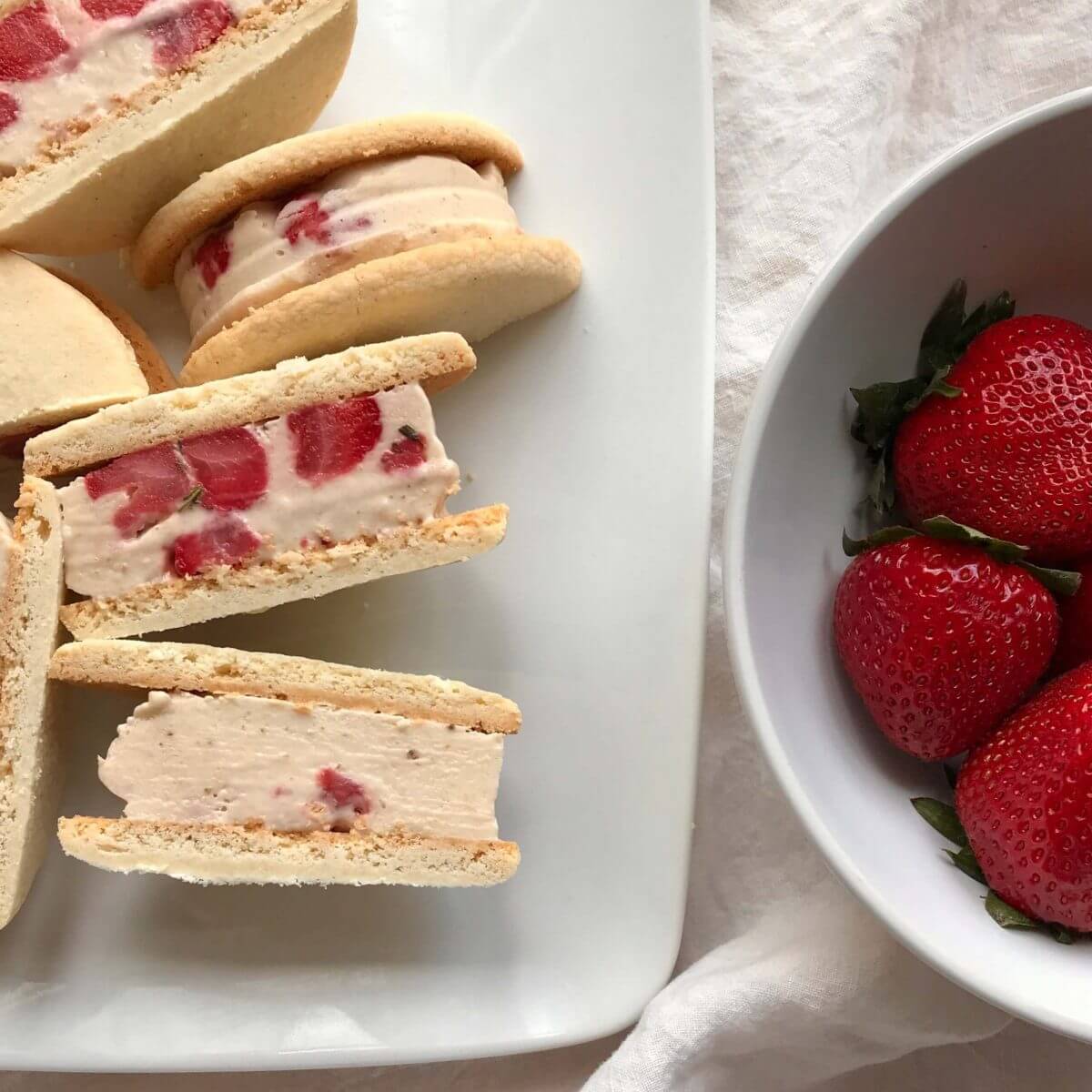 Strawberry Rhubarb blended with a frozen banana and studded with roasted strawberries is like the look for this summer. We added a little bit of thyme because you know we love an herbal mood.
It turns out that the sweetness in ice cream, is literally, necessary. So you no longer have to feel bad. It's not an indulgence if it's chemistry. The sugar molecules are what prevent huge ice crystals from forming and ruining the dreamy texture of your ice cream.
WHAT YOU'LL NEED
1 4 oz strawberry rhubarb cocojune
1 large frozen banana – cut into chunks
1 cup of fresh strawberries
½ tsp fresh thyme leaves
A neutral cooking oil (avo/ olive)
6-8 flat cookies of your choosing
HOW TO MAKE
Preheat your oven to 325 degrees.
Cut the strawberries into chunks and toss with oil and thyme leaves. Spread these cuties out on a sheet pan and roast for 15-20 minutes.
Remove the strawberries from the oven and try not to snack them all up before they cool.
In a food processor or blender, combine the strawberry rhubarb cocojune with the chunks of frozen banana. Blend until smooth.
Finally, fold in those strawberries.
Transfer your coco froyo to a container and freeze for an hour, so it can set up a bit.
Once it is a little more solid around the edges and firm in the center, get those cookies ready.
Set two cookies out in front of you, with the flat bottom of one cookie facing up.
Using an ice cream scoop, mound a big pile of ice cream onto your bottom cookie and set your second cookie, bottom side down, on top.
Press the cookies together to really sandwich the ice cream and press it towards the sides using force from your full palms. This will spread out the pressure you are applying as much as possible and cut down on cookie breakages.
Transfer your ice cream sandwiches to the freezer and wait another hour or so before digging in.