Vegan Strawberry Snack Cake
August 22, 2023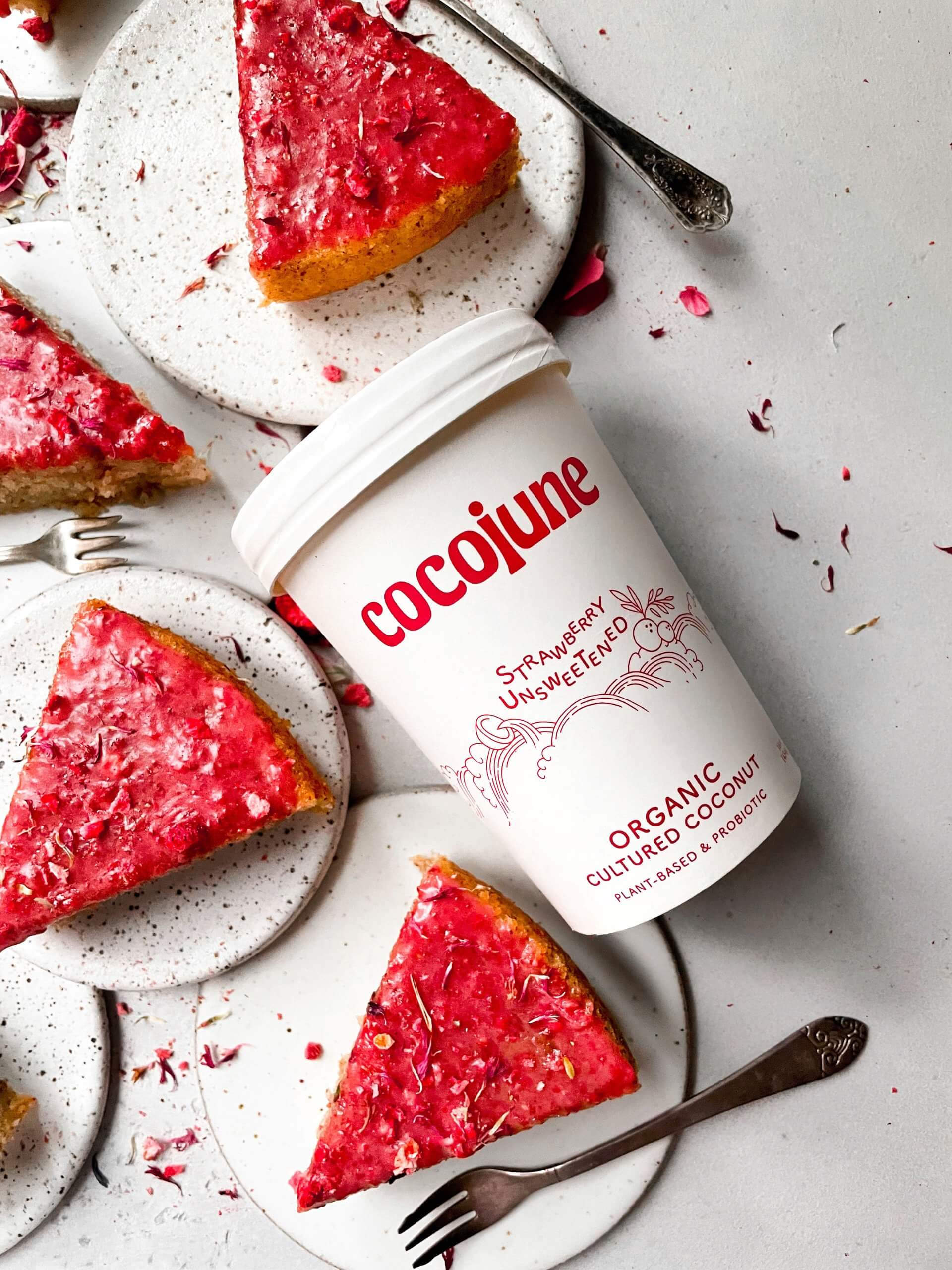 Our newest june, Strawberry Unsweetened, is the star of the show in this cloud-like snack cake ☁️🍓 We teamed up with our friend @thedeeperlivingeats to create this dreamy treat that's perfect for any time of day! Plus this cutie cake is plant-based so we're sure she'll be a total crowd pleaser 😉
WHAT YOU'LL NEED
For the snack cake:
2 tbsp flaxseed powder
¼ cup + 1 tbsp water
1 ½ cup all-purpose flour
1 ½ tsp baking powder
½ tsp salt
¼ tsp baking soda
¾ cup white sugar
1 cup Strawberry Unsweetened cocojune
½ cup vegetable oil
¼ cup almond milk
1 tsp vanilla extract
For the strawberry glaze
¼ cup frozen strawberries
1 cup powdered sugar
¼ cup freeze-dried strawberries, crushed
2 tbsp Strawberry Unsweetened cocojune
Pinch of salt
How to make:
For the cake:
Make your flax egg: In a small bowl stir together the flaxseed powder and water until fully combined. Set aside and let it rest, it will thicken up in a few minutes.
Preheat your oven to 350 F degrees. Grease and line an 8-inch cake pan. Set aside.
In a large bowl, add the all-purpose flour, baking powder, salt and baking soda. Give everything a good whisk and set aside.
In another large bowl, add the white sugar and the thickened flaxseed mixture. Whisk to combine.
Whisk in the Strawberry Unsweetened cocojune, vegetable oil, almond milk, and vanilla extract until fully combined.
Sift in the dry ingredients and gently mix everything in until no dry pockets remain.
Pour the cake batter into the lined pan and bake for about 35 to 40 minutes. The top should be golden brown and a cake tester should come out clean.
Once baked, let the cake cool in the pan for about 20 minutes.
Make the glaze and assemble:
While this cake cools you can make the dreamy strawberry glaze.
Defrost the frozen strawberries using a microwave or your stovetop.
In a bowl whisk the softened strawberries, powdered sugar, crushed freeze-dried strawberries, Strawberry Unsweetened cocojune, and a pinch of salt. You can whisk this together for a chunky glaze or you can blitz it up in your blender for a smooth glaze.
Invert the cooled cake onto your desired plate and remove the parchment paper.
Pour the glaze on top of the cake and smooth it out using a spatula or the back of the spoon.
Top with more crushed freeze-dried strawberries, flaky salt, and edible flowers.
Slice and enjoy! Best enjoyed fresh but this cake will stay for about 3-4 days in an airtight container in the fridge.