Cocojune Birthday Cake
June 24, 2021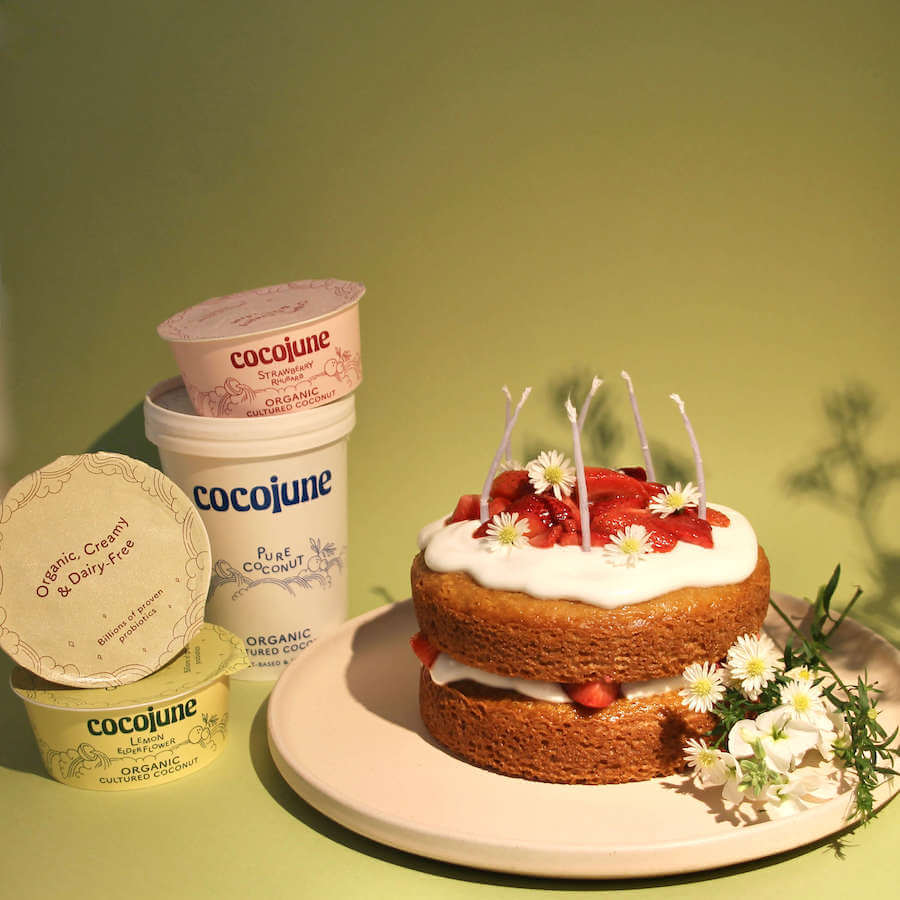 June is absolutely that friend who celebrates her entire birthday month, but no one minds. Especially when she keeps the whole month of June packed with fun treats!
This cake symbolizes everything that cocojune is and it's the perfect way to celebrate. A vanilla layer cake (that we're sharing the recipe for below), with fresh strawberry rhubarb fruit filling and our lemon elderflower cocojune for a frosting.
Yield – 2 6'' inch cakes + 12 cupcakes
WHAT YOU'LL NEED
2 cups pure coconut cocojune yogurt
½ cup aquafaba 
2 tsp vanilla extract 
1 ⅓ cup organic unrefined cane sugar 
2 ¼ cups all-purpose flour 
2 tsp baking soda 
1 tsp baking powder 
¼ tsp kosher salt
HOW TO MAKE
In the work bowl of your mixer, combine all of your wet ingredients – cocojune, aquafaba, vanilla extract, and sugar. Stir on low speed or thoroughly by hand until combined. 
In a separate work bowl, mix your flour, baking powder, baking soda, and salt together with a fork to break up any clumps. 
Add the wet mixture to the dry mixture and stir thoroughly, using a spatula to clean up the sides of the bowl when necessary. 
Once the batter is smooth, pour into prepared (greased and lined) pans. 
Bake in an oven preheated to 325F until a cake tester comes out clean – usually at least 35 minutes.
Once these cakes were cooled, we chose to top and layer them with heaps of lemon elderflower cocojune yogurt and some strawberry rhubarb jam, you can do the same or add your own spin.