Cocojune Pizza Crust
August 6, 2021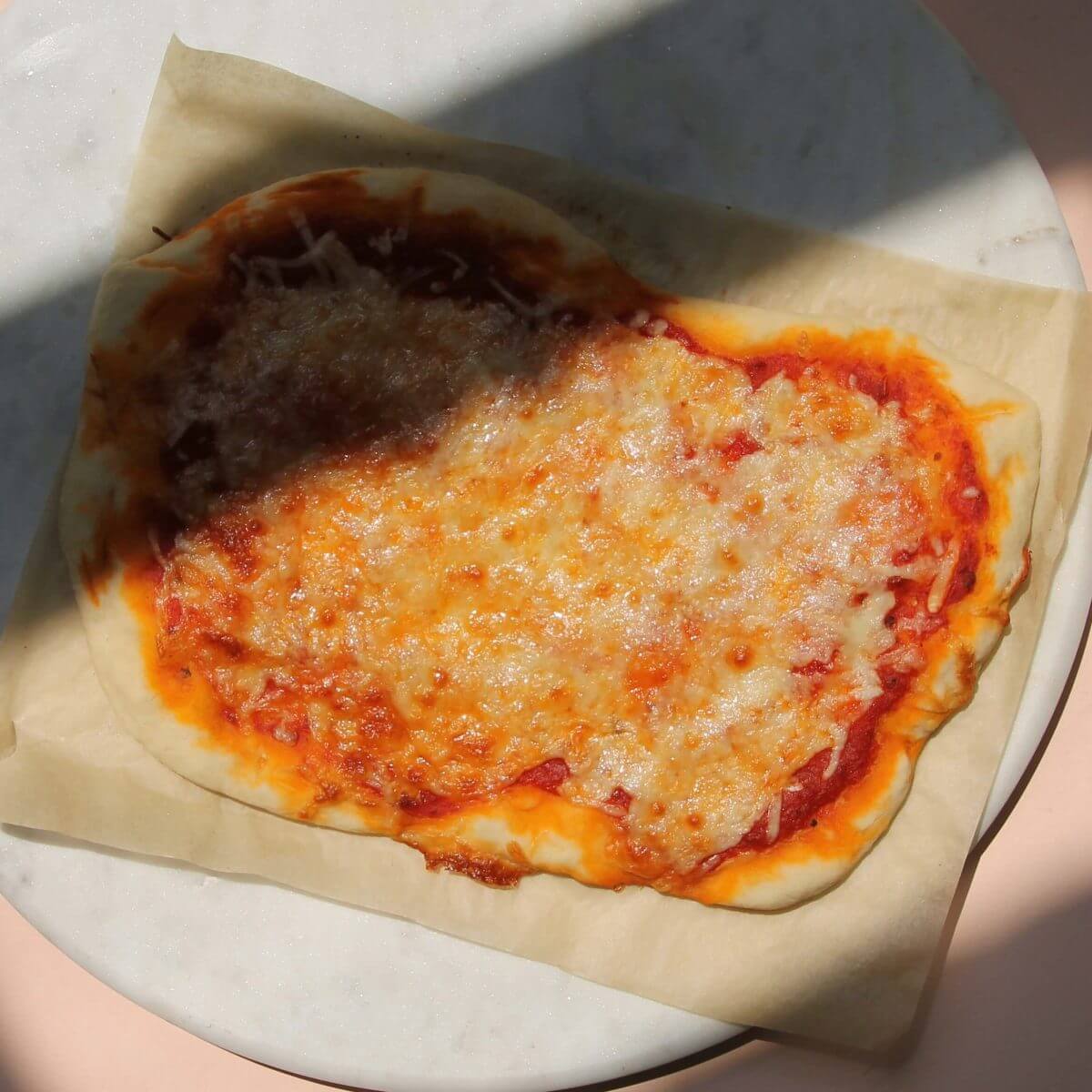 The internet has been obsessed with making breads and bagels out of yogurt + flour for so long now. And we have been experimenting for sure.
But today, we're finally ready to share the funnest spin we could create on this awesome trend.
A cocojune pizza crust!
Yield – 2 personal pizzas
WHAT YOU'LL NEED
2 ¼ cup all-purpose flour + more to use as bench flour
1 ½ cup pure coconut cocojune
1 tbsp baking powder
1 tsp salt
olive oil on hand
a sauce of your choice
shredded cheese of your choice
any other toppings you might like
(These instructions are for making the pizza dough by hand, without the aid of a stand mixer but if you have a robot willing to do the hard work for you, go for it.)
HOW TO MAKE
Into a large bowl combine your all-purpose flour, cocojune + baking powder, and salt, first with a fork and then with your hands when it starts to tighten up.
2. Turn your dough out onto a well-floured surface and knead with repetitive folding motions for about ten minutes, or until the outer side of the dough is smooth.
3. Rub a little olive oil on the surface of your dough and let it rest in a bowl, in a warm part of your kitchen for 20 – 30 minutes, until a finger pressed gently in the dough leaves an indent behind.
4. While the dough rests, preheat your oven to 400 and line a small baking sheet with parchment.
5. Spread the rested dough out to cover your lined pan. It should be about ½ inch thick at the edges and thinner in the middle.
6. Top with sauce, 'cheese', and toppings and bake for about 25-30 minutes, or until the cheese is melty and golden and the edges of the crust are crisp.
Notes on Recipe
We tried a version of this dough where we combined the flour and cocojune more gradually, holding back a portion of each ingredient and adding it at the end. The dough had an easier time rising and was more tender but didn't produce a better product overall.
When you set the dough in the bowl to rest, poke it with two fingers gently and make a mental note of how much resistance you feel. Then, after the dough has rested, repeat a similar poke and make a note of how much less resistance you feel now. This is a result of the gluten relaxing and a soon-to-be tender baked good.
A typical pizza sauce contains a little less water and a little more sugar than a general marinara. So if tomato sauce is all you have on hand, heat it up in a saucepan to reduce away some water.
At the cocojune test kitchen, we made a traditional cheese pie, a vegan veggie pie, a vegan buffalo chicken pizza with Daring Nuggets and Bitchin Buffalo sauce as well as a Bitching Spinach Artichoke Dip pizza with olives and mozzarella.
This recipe will create a Sicilian-type pizza with a dough texture, rather than a thin crust style pizza.