cocojune x FLOWERHEAD Tea Cake
April 7, 2022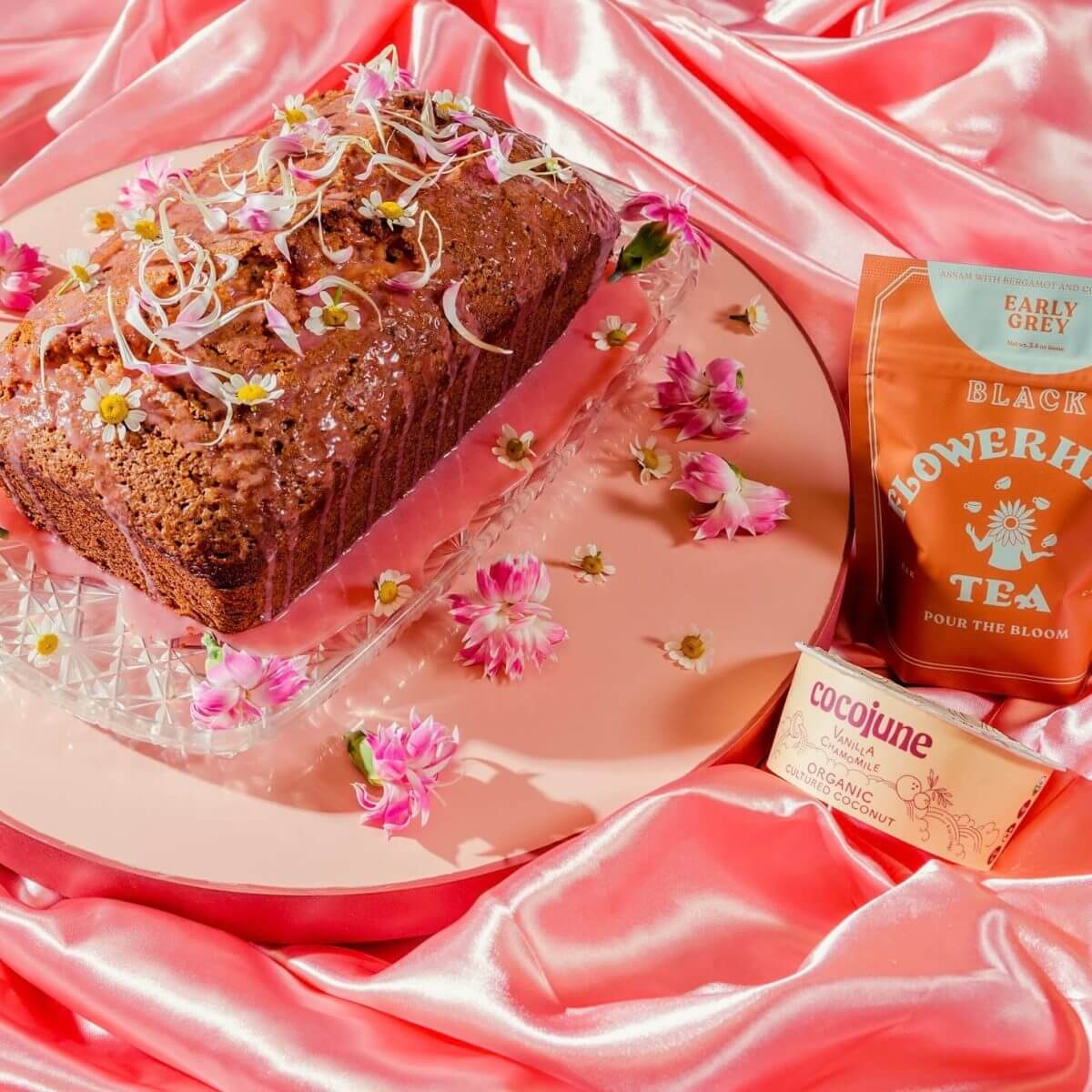 This tea cake FLOWERHEAD Tea made is almost too pretty to eat… We're thinking we need to get this picture framed!
Yield: 5-6
WHAT YOU'LL NEED
1 cup vegetable oil
2 cups all-purpose flour
1 ½ tsp salt
½ baking powder & ½ baking soda
2 eggs or the equivalent egg substitute
1 cup sugar
1 cup vanilla chamomile cocojune
2 tbsp FLOWERHEAD earl grey loose leaf tea
2 tsp vanilla extract
2 tsp demerara sugar
For glaze:
¼ cup lemon elderflower cocojune
½ cup powdered sugar
juice from half of lemon
HOW TO MAKE
Preheat your oven to 325F. Lightly coat a 9×5 loaf pan with vegetable oil and line with parchment paper.
Whisk together all-purpose flour, salt, baking powder, and baking soda in a medium bowl.
In a separate large bowl, whisk the egg or egg substitute and sugar. Then whisk in vanilla chamomile cocojune, loose-leaf FLOWERHEAD earl grey tea, and vanilla extract.
Gradually stream in 1 cup of vegetable oil, whisking constantly. Add dry ingredients and mix to combine, scrape batter into prepared pan and smooth top.
Sprinkle the top with demerara sugar. Bake cake until a toothpick inserted into the center comes out clean, should be about an hour.
Make the glaze by whisking ¼ cup lemon elderflower cocojune with powdered sugar and lemon juice. Add more powdered sugar if you like a thicker glaze.
Once your cake is baked let it cool in the pan for 15 minutes. Remove the cake and drizzle the glaze on top once it is completely cool.
Slice and serve with a cup of earl grey tea!